今回ご縁があり、VTuberの「パジャマ大好き引きこもりSingerのめもあさん」と弊社運営の日本の声優・アニメーションのファンサイトメンバー達と対談を行いました。
めもあさんは、引きこもりながらもご自分の殻を破り「歌を通じて想いを届けたい」とその活動を通して「パジャマ計画」なるものを
遂行しているのだそうです。
めもあさんご自身のYouTubeチャンネルでは「アニメソング」、「声優さんの歌」や「歌ってみた」等多岐に渡る曲目を披露されて
います。

弊社の日本の声優・アニメーションのファンサイトでも「アニメソング」や「声優さんの歌」を通し生きる活力を貰い日々の生活を
頑張っているメンバー達が沢山おります。
そんなメンバー達とめもあ様との対談(英語)の記事を公開いたします。
是非最後までお読みくださいませ。
————–
Fan Site Members:
Thank you for agreeing to this dialogue.
Please tell us a lot about your story right away.
Fan Site Members:
1) Please list three words that describe yourself, Memoa-chan.
Memoa: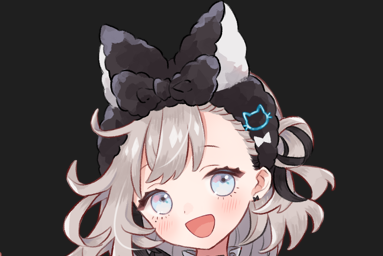 1) If I had to use three words to describe me (Memoa), It would be "Singing, Shut-in, and an crybaby"!
Singing:
As someone who is not good at using words to communicate, singing is the only way for me to express my feelings, and it is important for me to be able to convey what I really want to say.
Even in countries where I don't speak the language, I believe that I can deliver my feelings through singing, so I would like to convey my feelings to people overseas through singing…!
Shut-in:
It is to stay indoors and do what I like to do (singing, lounging around, etc.), and that is justice for me.
Right now I'm working on my "Pajamas Project"!
Crybaby:
Because of my sensitivity, I cry when I am happy, sad, or angry.

Especially when I accomplish something with listeners or when they support my dreams and goals, I often cry because I am touched by your kindness.

Fan Site Members:
2) Many foreigners think that a person who speaks in a whisper is a "Shut-in".
I think you are a very energetic Shut-in.
Please tell me why you became a Shut-in.
Memoa: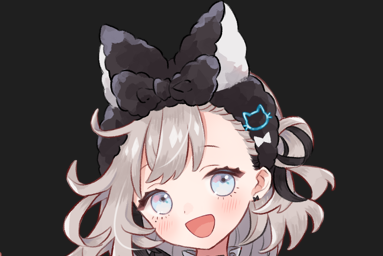 2) A very energetic Shut-in…!
This is the first time I've been told that… hahaha.

This is a dark story why I became Shut-in…
One day When I let a cat I used to keep inside my house out of my carelessness and let it die on outside, and I became afraid to open the door.

I used to love going outside, but the flashback of that time makes it difficult for me to take a step forward….
Now I am able to go shopping at supermarkets and convenience stores and go outside a little, but I still cannot go outside as much as I used to.
I thought, "This can't go on like this," and wondered what I should do.

I came up with the "Pajamas Project" to make the world a place where people can go out in their pajamas, which I love so much.

I started this project because I thought that if I could wear my favorite pajamas, become famous for my favorite song, and gradually go outside, it would encourage not only me but also other people in the same situation around the world.
Fan Site Members:
3) Please tell me about your favorite Ghibli (Miyazaki Animation) work other than "Howl's Moving Castle."
And please tell me about the reason that made you like it.
Memoa: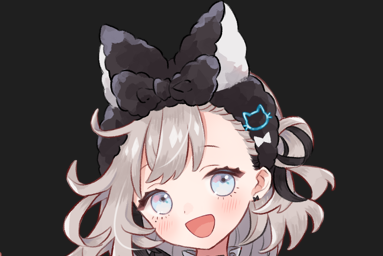 3) I love all of Ghibli's films!

The reason for this is that I love the way each character is fighting against different ordeals, but still going forward with a strong will of their own.No matter how many times I watch any of the films, I can't stop crying every time, and I have to grip a towel…!
If I had to choose a favorite title among them, other than "Howl's Moving Castle", it would be "Spirited Away".
In Spirited Away, I think it's cool and amazing to see the young Chihiro (heroine), who tries her best to go on for her parents, and has a strong heart that won't let anything get in her way.
So,I love the movie very much.
And the best part is the songs!
All the theme songs are great!

The lyrics are linked to the story, and whenever I sing only Ghibli songs on the distribution, I almost cry while singing…!
I would love to talk about Ghibli with people overseas someday…!
Fan Site Members:
4) The different registers in your singing and speaking voices are very cool.
What are your criteria for choosing the songs you sing in your videos (on your YouTube)?
Memoa: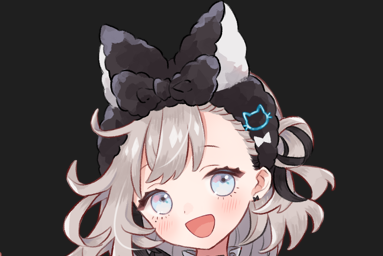 4) Thank you…!
In my live streaming, I often sing songs that I intuitively like, trendy songs that I just learned, or songs requested by listeners.
When I do videos such as "Me singing", I tend to sing songs that I want to express this song in my own way, rather than songs that are popular or trendy!

I often sing songs that I think I would like to express in my own way, rather than songs that are trendy!
There are various genres of songs that I sing, but I choose the songs that I want to sing and that I want everyone to hear, based on what I experienced at that time.
The four seasons of spring, summer, fall, and winter, which are unique to Japan, as well as encounters and partings, may also be used as criteria for selection….I think.
I also discuss with my manager, illustrator, mixer, and animator how to make my singing live streaming and videos more appealing, and I change the way I sing depending on my feelings about the song.
So I don't want you to miss a single second of the song!
This year, I plan to release my first original song, so please look forward to my original song, which is filled with more feelings than ever before!
Fan Site Members:
5) I see in the comments on your YouTube channel that you sometimes have comments from people from overseas.
How well do you speak English?
Memoa: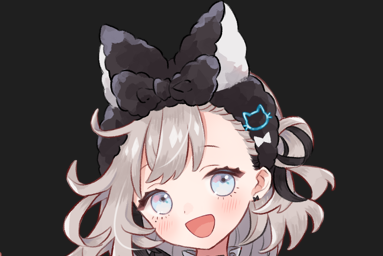 5) If I can't speak English, I can still talk to you using heart stamp!
(I always use my heart to say thank you for coming.)
This year, I want to talk a lot with overseas listeners, and I want them to know about me, so I want to be able to speak English as much as possible!
Please teach me English if you can…!
Fan Site Members:
6) If you could go abroad in your pajamas with your Kotatsu on, where would you go?
And what would you like to do?
Memoa: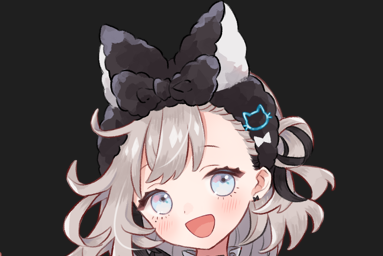 6) Finland!

I love Kotatsu, of course, but I also love sauna!
Finland is the birthplace of sauna, right?
So, I want to go to a sauna place is the birthplace.
In Japan, we don't have saunas like in Finland where we jump into a lake or lie on the snow to cool down, so I'm very interested to see what it's like in Finland…!
Fan Site Members:
7) Finally, any comments for our readers?
Memoa: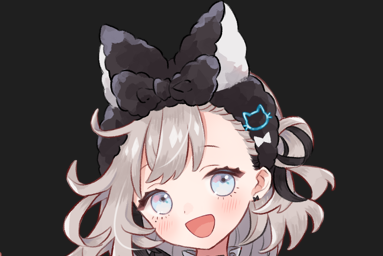 7) I'm so glad you could hear me speak and sing across the border this time!
I will participate in the audition for the live performance called "Life Like a Live! 5" from 2/15(Wed.) to 2/26(Sun.) for 12 days!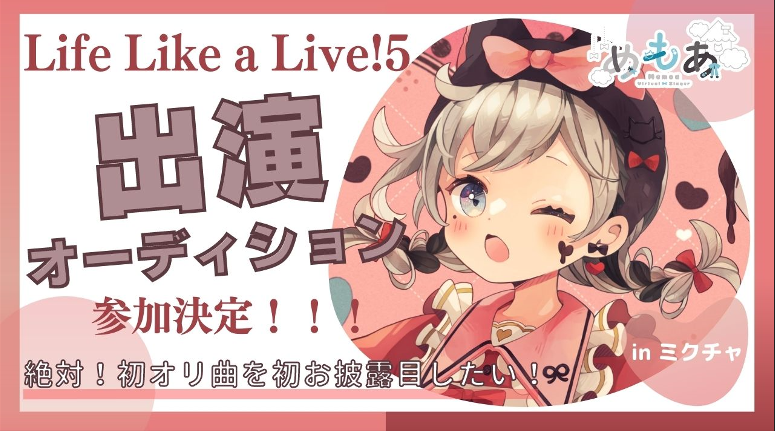 https://mixch.tv/u/17409174 (Memoa distribution direct link)

The audition venue can be accessed from your browser via an app called Mikucha.
I can't win by myself, so I need the help of each and every one of you!
I would be very happy if you could support me!
As I mentioned in the beginning, I think this audition is the first step to become famous in order to achieve the pajamas project.
Life Like a Live!5, the big stage of the live performance.
Through this audio, I want to spend an emotional moment with everyone!
I want to share my growing me and repay everyone who has always applied for the contest, even if it is just a little!
I will not make you regret supporting me.
So please come and witness the courage of me!
After this audition, I will not only perform and live streaming, but also celebrate my first anniversary in this April, release an original song, and make a big announcement that I can't tell you about yet.
So please subscribe to my YouTube channel and follow me on Twitter!
(https://twitter.com/memoa_923)
And look forward to hearing about it!
I will continue to devote myself to spreading my wings to the world!
I'd be happy to talk about Ghibli with you all in real time and have Anime songs contest!
See you soon!
Otsumemo~!
(Otsumemo is an acronym for "otsukare-sama," and "Memoa")!
★How to Apply★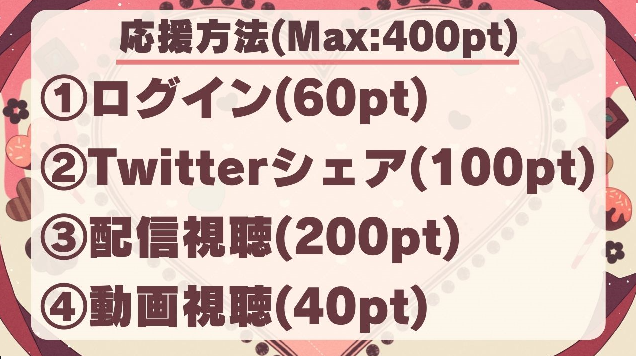 log-in (60 points) – Open MIXCHANNEL once a day.
Twittew share (100 points) – Tweet from the share button in the upper right corner of the distribution screen.
Delivery Viewing (200 points) – Points are credited for entering the room 30 seconds after the start of the delivery.
Movie Viewing (40 point) – Earn 10 points for watching advertisement videos, up to 4 times a day
!!Tips!!
If you enter via web from overseas, you cannot get free items.
If you use a large screen, PC, iPad, or other international size screen, the video will be distorted or there will be a delay in the voice.