This time we held an online talk event with Tetsuya Kakihara.
A rare opportunity to see the many faces of him,this talk event will be like that!
And we will be streaming this event to the world.
We do stream it with English subtitles, so many people will be able to enjoy it.
At the same time as distributing the video, we will also be selling original voice messages to everyone around the world.
The voice message was recorded with all his heart and soul, expressing his feelings as "Tetsuya Kakihara".
If you buy this voice message and delivery ticket, 10 people will receive my autograph by lottery.
This autograph will include 'your name'.
This will be your one and only signature in the world, so please join this event!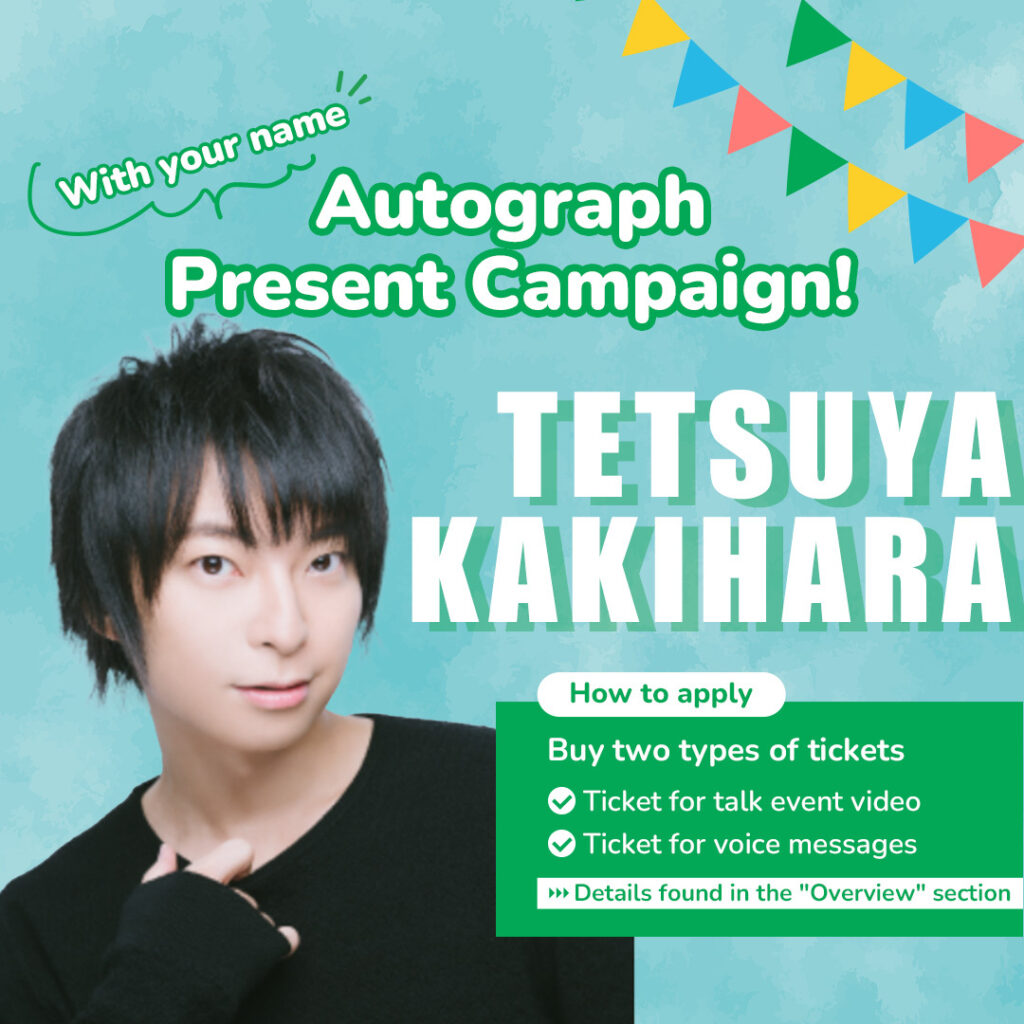 Detailed information
1) Sales period:
Distribution:From September 18th, 2023, at 00:00 (JST) to October 17th, 2023, at 00:00 (JST)
Good (Voice Message) ticket):From August 31st, 2023, at 00:00 (JST) to September 30st, 2023, at 23:59 (JST)
2) Price:
-Pre-recorded ZOOM meeting price: 2,500 Japanese Yen
-Original Voice Message price: 1,000 Japanese Yen
3) Each sales link:
-Pre-recorded ZOOM meeting sales link:
Will be available from 00:00 on 18 September (JST).
-Original Voice Message sales link:
https://kamo-no-ne.rhythm-clap.com/messages/kakkivoice1/welcome/
4) Playable period:
Both of one month from the date of purchase
5) Payment Method:
PayPal and credit cards
(Apple Pay and Google Pay will be available from September 11.).
6) Supported browsers:
-Windows: Google Chrome
-MacOS: Google Chrome
-iOS: Safari
-Android: Google Chrome
(Please make sure that you have updated your device to the latest OS version)
Additional details and updates will be announced on this event's official account including a sneak peek so be sure to follow here for more updates:
When the sale starts, we will inform you via the official X and official Instagram.
X (Twitter) ID : @Seiyuuevent888
Instagram ID : seiyuu.event888
This event is sponsored by Zynchro, Kakihara's agency and Rhythm & Clap Inc.
https://www.rhythm-clap.com/
Twitter(X):@chicken_mouse